WG-01 Foregrip – additional handle for grip of the gun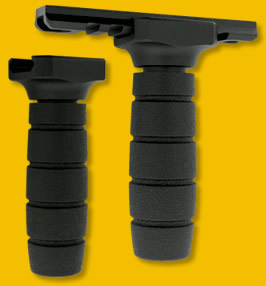 It is fastened to the gun on the rail 98 mm (Sa 58. AK-47) and increases significantly firmness and stability of holding. This foregrip is fastened by its turning around the vertical axis.
Head of the foregrip is made of hardened duralumin type 6061. The body of the handle is made of black polyamide. Contrary to fully plastic foregrips our type has high resistance.
It is successfully used by French forces in Afghanistan.
Weight 116 g. Total length 100 mm. Length of the handle itself 87 mm.