All endings can be easily mounted on the Friction Lock baton after unscrewing its original ending with ESP logo.
Baton endings are supplied separately as an accessory or upon request mounted on an expandable baton (except BE-03 ending).
---
BE-01 Baton ending with a jut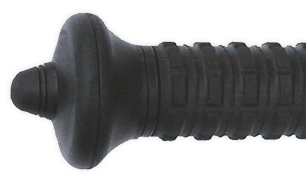 This ending greatly increases the certainty of hold on the baton. The widened part of the ending prevents the hand from slipping from the baton handle.
Thanks to a curved jut you can hit the adversary with the other side of baton. This is advantageous in situations where confined space makes it impossible to fully open the baton and use it. The jut can also be used to strike the vital points of the aggressor.
The ending is made from durable silicone with excellent resilience and resistance against graying.
Diameter of the widened part 43 mm
Weight 70 g
---
---
---
BE-02 Baton hardened steel ending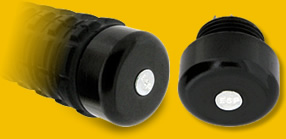 Baton ending made of hardened steel, which makes it possible to use the baton as an impact tool, e.g. for breaking of windows or as an improvised hammer.
---
---
---
BE-03 Baton ending with a small crowbar
"Openers" by ESP – more detailed information >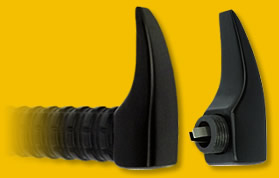 Baton ending in the form of a small crowbar is designated particularly for use by police and rescue teams. In this manner it is possible to very quickly create an alternative tool in emergency situations.
It can be used for prying open locks and latches. Its end part can be used as a hammer.
Dimensions: 80 × 28 mm, weight 215 g.

---
---
---
BE-04 BE-05 Expandable baton ending with a hidden spike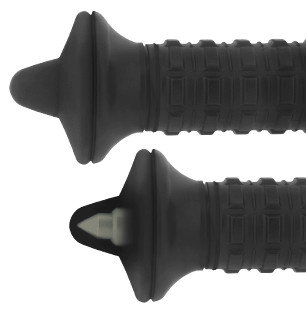 This ending with a hidden spike is useful especially in emergency cases for the destruction of obstacles made of glass, for example during car accidents or police interventions. The ending is designated primarily for armed forces and rescue units, but also for ordinary drivers as an emergency tool for escaping from a vehicle in the case of an accident.
The special hard and highly resistant spike (tungsten carbide) is safely hidden in the ending right beneath the silicone surface. It reliably shatters glass even when limited force is applied. The ending can be easily mounted onto an Friction Lock expandable baton in the place of the standard ending.
The ending is made from durable silicone with excellent resilience and resistance against graying.
BE-04
The widened rubber part of the ending improves grasp of the baton, prevents the hand from slipping and partially protects it against possible glass shard injury.
BE-05
This is a more compact version of the BE-04 ending.
Type

Diameter

Length

Length without
a screw-thread part

Weight

BE-04

44 mm

59 mm

43 mm

84 g

BE-05

33 mm

49 mm

31 mm

76 g