HT-01-Y HT-01-B Textile disposable handcuffs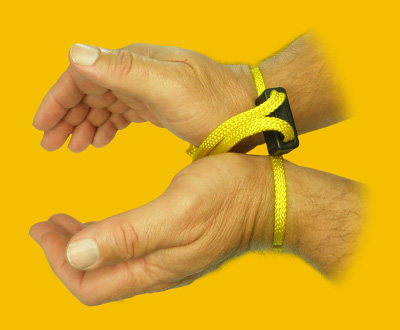 Handcuffs use unique locking system, which ensures that even physically very strong persons cannot get out from these handcuffs. Minimal tearing strength of handcuffs is 140 kg (verified by certified tests).
Main advantages consist in low weight and easy storage. This product was already patented in the USA and in Europe. These handcuffs are broadly used by Police of Czech Republic and Slovak Republic. They are supplied in a set of 5 pieces.
Removal of handcuffs is made by multipurpose ESP cutter – type HK-02 or by cutter located at ESP rescue knife.
Weight 22 grams.
HT-01-Y ... bright yellow fabric ribbon enables easy identification of handcuffed person
HT-01-B ...

fabric ribbon in

black colour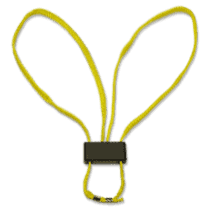 HT-01-Y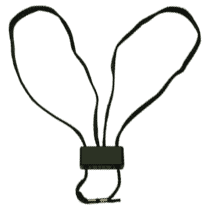 HT-01-B
---
---
---
HT-01-T Training version of textile disposable handcuffs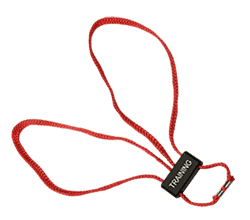 We offer together with disposable handcuffs HT-01-Y or HT-01-B also their training version HT-01-T in red colour, which makes it possible to train handcuffing techniques without necessity of destroying real disposable handcuffs.
These handcuffs are equipped instead of fixation locks with silicon friction rollers, which enable smooth and easy fixation of handcuffs. They, however, exert slight resistance when the handcuffed person tries to release himself or herself from the handcuffs. They thus imitate behaviour of real handcuffs, but can be easily and safely taken off.
---
---
---
HK-02 HK-02-B Multi-purpose cutter for removal of textile handcuffs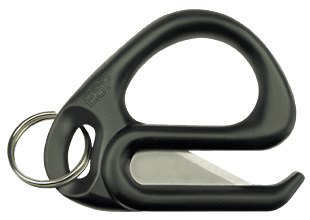 The cutter has an ergonomic shape with an opening for safe holding and also a hole for attachment to clothes or a key-ring. The sharp edge of the cutter is embedded in order to prevent any injury during manipulation. Plastic lead-in part of the cutter with special shape enables its easy sliding under the handcuffs.
This cutter can be easily used for other purposes besides removal of disposable handcuffs. Thanks to the special shape of the blade it is possible to use this cutter also for rapid cutting of car safety belts, either in a car accident or during police crackdown on dangerous person sitting in the vehicle. The HK-02 multi-purpose cutter can be also used for easy and safe removal of clothes during emergency first aid.
HK-02-B Multi-purpose cutter with a nylon loop
This multi-purpose cutter is also available with a strap for comfortable carrying on a tactical vest or a duty belt. Thanks to this you will have your cutter always at your disposal. The strap is manufactured from a durable nylon and can be attached to the duty belt up to 55 mm in width as well as to a MOLLE webbing.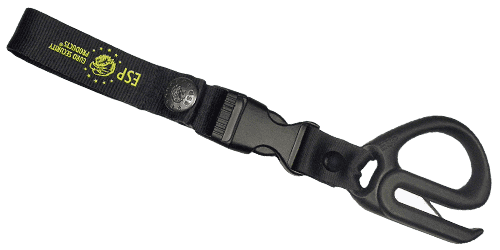 ---
---
---
HTH-x3 HTH-x6 HTH-x9 Plastic holder for 3, 6 or 9 pieces of disposable textile handcuffs HT-01
Plastic container holder is designated for comfortable daylong carrying of larger number of disposable textile handcuffs of the type HT-01. They are inserted into the holder after turning the top cover. Instructions for putting the handcuffs into the holder ("loading") are given on the lid of casing.
After opening of the side flexible flap the handcuffs can be quickly and easily taken out by pulling the projecting of textile ribbon. The holder can be after its emptying easily filled with other handcuffs and be thus ready for another action.
The holder is made from highly resistant polyamide and it is manufactured in variants for 3, 6 or 9 (for anti-riot units) pieces of handcuffs (HTH-x3, HTH-x6 nebo HTH-x9).
Comprehensive system of ESP fixing brackets – more information >
Designation of the holder
Type of the fixation clip

Rotation
(360°)
Compatibility
with MOLLE
Insertion without
unbuckling the belt

HTH-03

HTH-06

HTH-09

UBC-01

•

X

•

HTH-13

HTH-16

HTH-19

UBC-02

•

•




•

HTH-23




paddle Fobus

•

X

•

HTH-33

HTH-36

HTH-39

UBC-03

•

X
X

HTH-43

HTH-46

HTH-49

UBC-04

•

•

–

HTH-53

HTH-56

HTH-59

UBC-05

•

X
X

HTH-63

HTH-66




HTH-69




metallic clip

X

alternatively

•
instructions for putting the handcuffs into the holder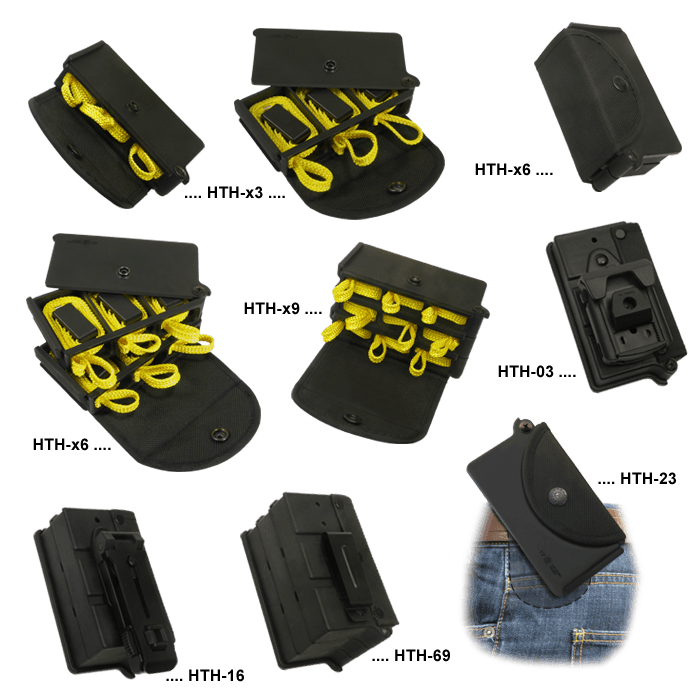 ---
Disposable handcuffing ESP system – more detailed information >