ExT-20/52 ExT-24/61 Expandable tonfa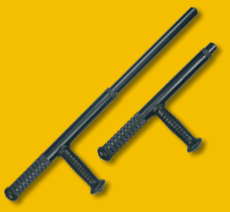 Expandable tonfa is made of high-quality duralumin (type 6061). Hardened duralumin ensures high strength, toughness and resistance to oxidation (even in salt water).
It is very compact when closed and does not obstruct your movements. In case of need it can be drawn out very quickly to its full length.
Expandable tonfa can be supplied with different types of holders, we recommended the holder TH-04, TH-14 or TH-64.
| Designation of the tonfa | Length | Weight |
| --- | --- | --- |
| ExT-20/52 | 20″ / 52 cm | 850 ± 20 g |
| ExT-24/61 | 24″ / 61 cm | 925 ± 20 g |
Expandable tonfa – opening