MH-x4-MP5 Plastic holder for magazine of the rifle HK MP5 / UZI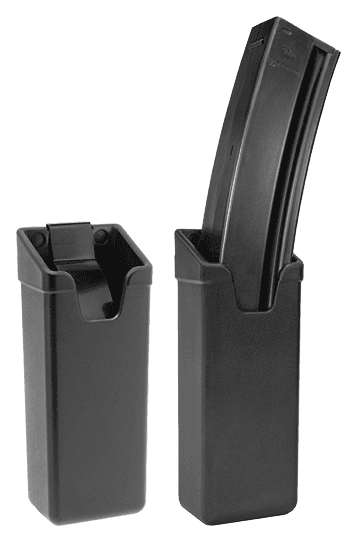 This self-locking universal holder is designated for very convenient placement of a back-up magazine for 9mm police submachine gun HK MP5 and UZI.
The sophisticated design with fixation spring enables quick drawing of the magazine.
The holder can also support the magazines for:
rifles of the type AR-15 (

9 mm Luger type),

submachine guns Brügger & Thomet (

9 mm Luger type),

handguns with the caliber .45 Auto with double stack magazine (e.g. HK Mark 23, Para Ordnance P14, Glock 21),
submachine guns vz. 61 Škorpion (20-round magazine).
Color: black.
Designation of the holder

Type of the fixation clip

Rotation




(360°)

Compatibility




with MOLLE

Insertion without




unbuckling the belt

MH-04-MP5

UBC-01

•

X

•

MH-14-MP5

UBC-02

•

•




•

MH-24-MP5

paddle Fobus

•

X

•

MH-34-MP5

UBC-03

•

X
X
MH-44-MP5

UBC-04

•

•

–