MAGNUM Duralumin flashlight with 14 LED diodes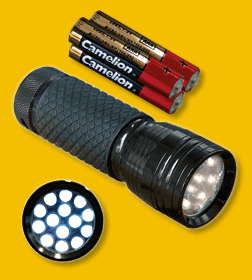 Durable duralumin flashlight resistant to moisture with 14 LED diodes. It gives high intensity light with wide rays. Unbreakable frontal polycarbonate glass. Rubber coated handle.
It can be also used as a part of the "Night Police Set" with plastic red signal cone and nylon holder.
Colour: black. Three AAA alkaline batteries are included in the price.
Dimensions:
head diameter 34 mm
body diameter 30 mm (at handle)
length 109 mm
weight 126 g (incl. batteries)