MAGNUM Duralumin flashlight with 14 LED diodes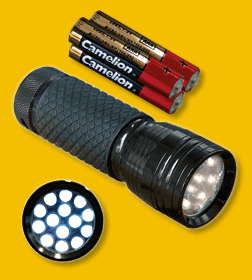 Durable duralumin flashlight resistant to moisture with 14 LED diodes. It gives high intensity light with wide rays. Unbreakable frontal polycarbonate glass. Rubber coated handle.
It can be also used as a part of the "Night Police Set" with plastic red signal cone and nylon holder.
Colour: black. Three AAA alkaline batteries are included in the price.
Dimensions:
head diameter 34 mm
body diameter 30 mm (at handle)
length 105 mm
weight 126 g (incl. batteries)
---
---
---
---
BARRACUDA Mini Pocket flashlight with 5W LED chip Cree XP-G2
This compact flashlight is suitable for everyday carrying as well as outdoor activities as it takes up only very little space. The innovative Cree LED chip XP-G2 with 5W performance ensures the luminosity of up to 100 lm. The flashlight is water-resistant (it can be submerged in shallow water) and it can withstand rough handling.
The flashlight body is made of highly durable duralumin. The front glass is made of resistant polycarbonate. The ergonomically shaped body of the flashlight with ridges ensures comfortable hold in any situation. The specially shaped flashlight head with points facilitates the use of the flashlight as a means of self-defense and the grooves on the head prevent unwanted rolling of the flashlight. The switch is located at the flashlight end and protected with a rubber cover.
The metal clip fitted to the flashlight enables its carrying on the belt or in the pocket. The flashlight can be used without the clip too – it can be easily removed by screwing off the flashlight ending.
The flashlight is charged by a common and easily available alkaline battery type AA (LR6), which is included in the package. The flashlight can be also powered with a rechargeable battery NiMH (voltage 1,2 V) or Li-Ion rechargeable battery type 14500 (voltage 3,6 V).
The flashlight is capable of 4 modes of lighting in the following order:
100 %,
stroboscope,
50 %,
10 %.
Light short pressing of the switch changes between the modes (without fully pressing the switch). If you switch the flashlight off for more than 2 seconds, it defaults to switching on in the 100% performance mode.
Dimensions:
head diameter 28 mm
body diameter 21 mm (at handle)
length 105 mm
weight 81 g (incl. battery and metal clip)
weight of the clip 5 g