ASC-57-60 ASCU-57-60 Circle police shield
These shields are made of high-quality, extremely resistant polycarbonate with thickness 3 mm. Inner ergonomically shaped reinforcing plate dampens efficiently impacts and vibrations on holding hand.
The rubber handles with deep reeding ensure secure grip.
| Designation of the shield | Width | Height | Weight | Holding of the shield |
| --- | --- | --- | --- | --- |
| ASC-57-60-L | 570 mm | 600 mm | 2,00 kg | in left hand |
| ASC-57-60-R | 570 mm | 600 mm | 2,32 kg | in right hand |
| ASCU-57-60 | 570 mm | 600 mm | 2,32 kg | in left hand or in right hand |
---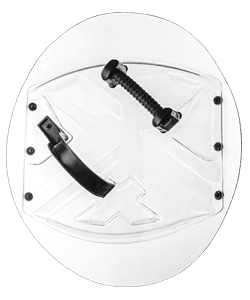 ASC-57-60-L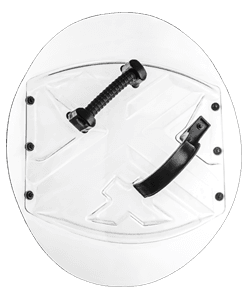 ASC-57-60-R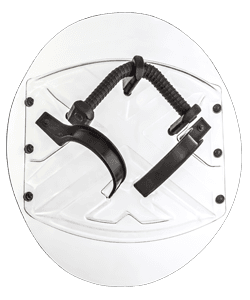 ASCU-57-60
---
---
---
Sling for carrying of a round shield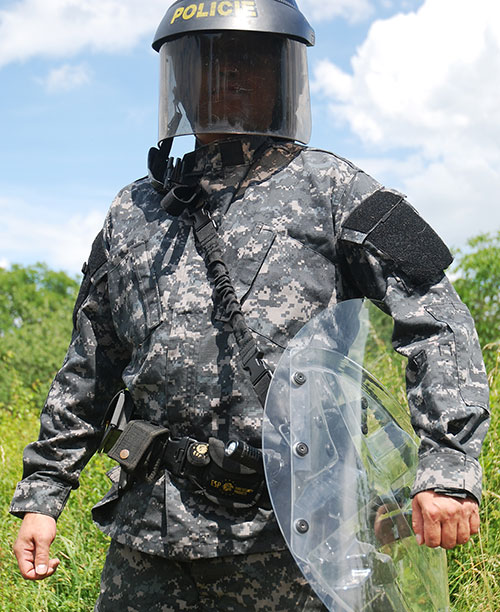 This two-point shield sling facilitates comfortable carrying of a round ESP shield of the ASC / ASCU type. Your hands remain freed for other activities (pepper spray use, handcuffing of the aggressor), but you can also immediately take cover.
The shield sling does not take up too much space on your gear thanks to its advantageous width of only 30 mm. The sling's material is sufficiently supple so as not to limit you during prolonged carrying.
A 20-cm long flexible strap (called bungee) is located at both ends of the shield sling. The bungee strap allows for quicker handling of the shield even in full gear. The flexible bungee cords are placed inside a protective nylon cover.
A movable loop allows for swift adjustment of the shield sling into optimum length for the specific user (from 137 to 189 cm). The shield sling's length can be changed according to current requirements of the gear or situation – even when the sling is already in position on the user's body.
The shield is attached with two metal snap-hooks. The hooks have a nylon cover which absorbs their clicking against the shield. An emergency plastic clip for quick unfastening of the shield is placed at easy reach in the front part of the shield sling.
Total sling length: 137–189 cm (depending on the setting)
Weight: 253 g
Sling color: black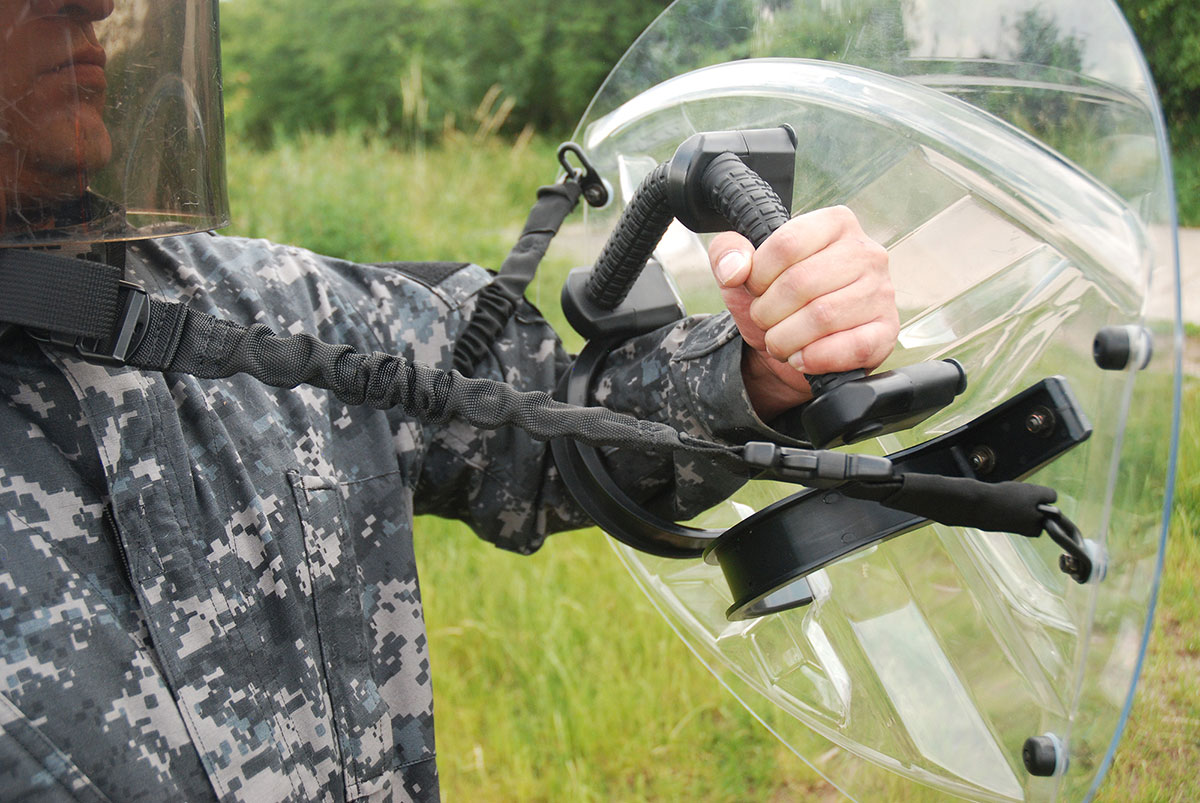 ---