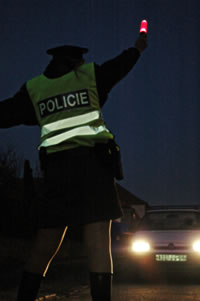 A car rushes through the nigh city. The driver is suddenly alerted. All of a sudden he sees before him sharp red light. Shining little cone flashes up and down. Road check … Police patrol then goes around the stopped car and carefully looks inside using its flashlight. Police woman sees in the cone of light clearly the driver's face and hands and then they check the presented documents. Photos, personal data … It seems that everything is OK. The patrol then concentrates on compulsory equipment. Fashlight casts light on the open boot. Triangle, spare wheel, first aid kit … It remains to check also technical data. Police woman lights the label – it is also OK. Police is very thorough today so they check also the codes – VIN number is correct. "Thank you sire and have a safe journey!" The car departs to the dark streets and dazzling light in the hands of pretty police woman is switched off.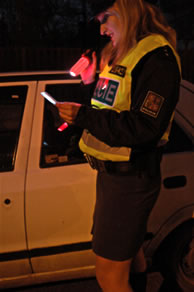 Many drivers have experienced this little story. These are routine operations, which are daily work of traffic police or police patrols. These activities take often place at late evening or at night when lighting is very limited. Although this is literally "daily bread" of law enforcement officers, it is rather dangerous. Police men and women can be in such cases endangered not only by the risks of traffic itself, i.e. by distracted or drunk drivers, but they can be for example also attacked by randomly stopped "wanted" persons or even surprised perpetrators for criminal act. Ensuring safety at such nigh operations can be expressed by simple slogan "to see and to be seen". It means to be seen as and "obstacle" on the road and to have a chance to detect in time potential danger. Although the slogan sounds very simple and self-evident, real situation are far from being easy. Stopping of cars at night has its particularities and difficulties. Trouble-free execution of these checks depends, apart on observation of certain tactical procedures, also on appropriate equipment and outfit. And this exactly is what this article is about. Let us start by stopping of a car. Obligatory reflective police vest is good prevention against accidental tragic collision. Stopping of the car in accordance with service regulations is usually made by red light. After stopping the car a different suitable source of light is needed, both for performance of all acts of checking, and for ensuring own safety against sudden attack. And here we encounter the true "stumbling block", i.e. absence of new suitable tools, since the existing ones truly belong already to history.
Useful kit
According to some opinions this situation may be resolved by an interesting aid, which appeared recently on the market and which was met with unexpectedly favourable response. We speak about the so called service set, created specifically for the needs of ordinary police men and women. The company ESP (manufacturer of well known expendable batons) reacted already some time ago to the above described insufficiencies. In collaboration with several leading experts from official security forces the company decided to develop suitable modern equipment for everyday service actions. Such equipment should be practical and multi-functional. Compact, light and highly resistant. From the very beginning special attention was paid also to the low purchase price. This perspective system was tested and commented both by several security experts and also by numerous "line cops". The set consists of several parts – LED diode lamp with highly luminance, red signal top and pouch for a belt. The flashlight contains fourteen LED diodes. Testing has proved that this is an excellent compromise between intensive lighting and long life of power source, which is ensured by three AAA batteries, i.e. easily available and cheap source (in contrast to for example CR123 batteries for xenon flashlights…).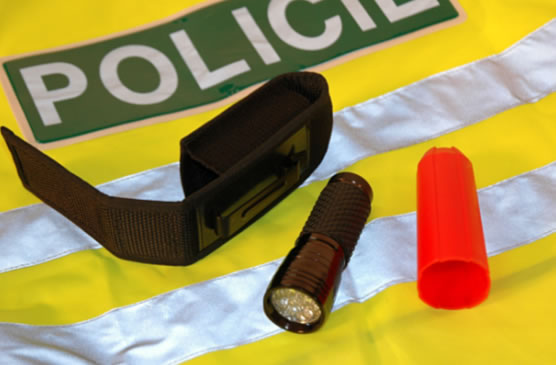 Body of the flashlight is made of duraluminum used for aircrafts, front glass is made of ballistic polycarbonate. Practical experience has convinced police officers that the flashlight is only feebly affected by falls and rougher handling and that it is also resistant to humidity. Its rubber surface ensures firm grip even when it is wet, or when the hand is greasy or covered with sweat. In winter time it does not freeze bare hands. The switch at the end of flashlight, which is also covered with rubber, enables reliable and immediate control even in service gloves. The signal red top can be easily attached on the front part of the flashlight. When giving the "stop sign" the lighted bright cone is well visible even at a great distance. Thanks to the hole in its top part the flashlight can be readily used also for other necessary actions (see photo 2). The flashlight can be afterwards inserted into this plastic attachment, which thus creates a sort of protective cover. This unit (flashlight inserted into the attachment) is then easily put into the transport pouch. This nylon holder is equipped with flexible metallic clip, which enables its easy and fast fixation to any service belt (see photo 4). Testing has confirmed that it holds firmly during all day, and at the same time it can be instantly removed from belt, if necessary. Very interesting is also the price of the complete ESP set.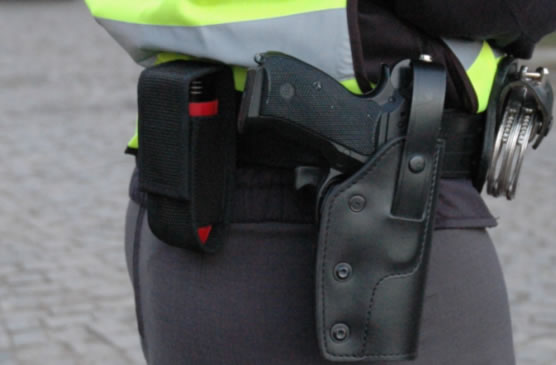 Not only for stopping cars
As it appeared during development, as well as during intensive testing by numerous police units, this new ESP flashlight need not be used only for activities related to stopping of cars. It means it is a useful aid not only for traffic police, but also for many other police officers, guards and standby motorised units. It can also be seen more and more often in equipment of municipal police and also military police. That is to say that its properties appeared to be highly useful also for other service activities and operations. It can often serve as highly useful aid in risky situations. Use of its blare during operations in bad lighting conditions may be very extensive in police practice – control of suspect persons, search operations in terrain, entrance to broken objects, scanning hazardous spaces in buildings, etc. All this not only at night, as it is often erroneously supposed by some members of security forces. That is to say that it is always necessary to have at hand a reliable source of light anytime during service – even during shiny sunny day we may be sent to fulfil our task to such a place, where we cannot see even beyond our nose. The light in such situation comes therefore very handy. Reliable flashlight is therefore vitally important tool. In such a risky job as police profession it unfortunately may really become a question of life.